Spring cleaning is not a new concept. As the weather warms up we open windows to let in the fresh air, wipe away all the dust bunnies and create a renewed sense of energy as we welcome bright sunny days into our home. Since you will already have your cleaning gloves, on, spring is the perfect time to dive into those organizational projects you have been putting off.
Here are 5 of our favorite spring organizing tips you can do with your spring cleaning during to regain control of your home and create an enjoyable environment that helps life run smoothly.
1. Create a Spring-Cleaning Bucket or Caddy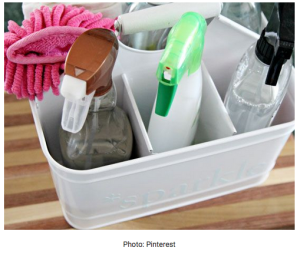 As you move around your house you will want to have your basic cleaning necessities readily available. Collect your favorite cleaning items together into a bucket or caddy that is easily toted around. You may want to include such items as rubber gloves, all-purpose cleaning spray, glass cleaner, sponges, toothbrush, squeegee, scrub brush and microfiber cloths.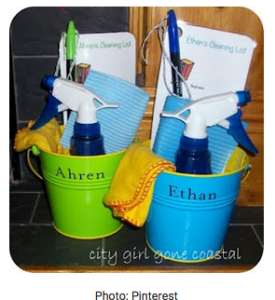 If you have children, consider this cute idea to help get them involved with helping out around the house. They each get their own cleaning bucket complete with their personalized cleaning list.
2. Conceal the Clutter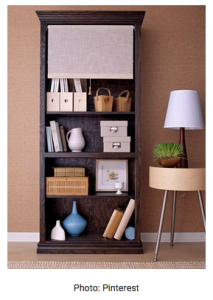 We all know that organization is centered on de-cluttering our lives, but we also know that we all have piles laying around that we can't quite eliminate. There are numerous ways to provide space for your piles that will tuck them neatly away. Here are a couple of our favorite ideas.
A roller shade on a book shelf helps hide unwanted clutter from guests' eyes.
Paint cans work in a variety of ways to keep everything from letters and notepads stored neatly away to pens, scissors and paintbrushes. Create vertical or horizontal storage that provides a surprisingly modern look. Here are a couple ideas utilizing Velcro to secure cans to each other or to shelving.
3. Designate a "Catch All" Spot
It is okay to have a "catch all" basket or two around the house especially in your high traffic spaces such as the kitchen or entryway. We are all in a hurry from time to time and need a place to throw something down as we rush off to our next task. If you can at least keep these items contained to a bowl or basket then you can easily clean out the container at the end of the day or even every couple of days.
If you have a full household, try designating a basket for each family member. As you go through your day and find random items around the house, toss them into the appropriate basket, then each of your family members can take one trip to the bedroom with all of their belongings at hand. This tip is especially convenient if you have stairs.
4. Protect Your Clothing
As spring progresses you will be storing away winter coats and wool sweaters. Keep moths away and clothes smelling fresh with the likes of cedar, lavender, cinnamon, mint, thyme, cloves and rosemary. Then, utilize clear storage containers to keep dust minimized while being able to easily see which items are stored in each container.
5. Store Household Items in Pretty Containers
Consider removing the outer packaging of household items to immediately make your space more attractive and orderly. This tip is especially useful in the bathroom where you can ditch plastic packaging for pretty baskets, repurposed jars and glass canisters that are beautiful and inexpensive.
Bonus: DIY Spring Organizer Tote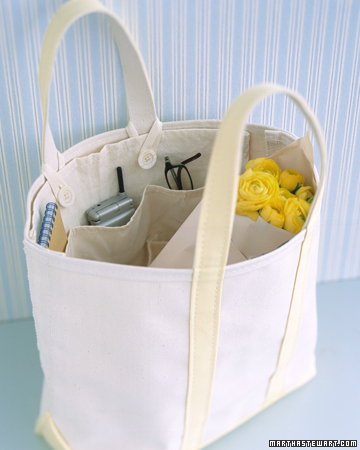 Once you have dedicated your time and energy to organizing your home, create a treat for yourself with a simple DIY tote organizer to keep your spring necessities collected and off the floor, counter and chairs of your freshly cleaned and organized home. For inspiration, check out Martha Stewart's Removable Tote Organizer created from a carpenter's canvas nail apron.
Have you started organizing your space this spring? The interior design experts at Decor & You are here to bring spring relief to your life. They will create a personalized plan to meet your organizational goals and décor desires for any room in your home or office.