How do you differentiate between clutter and artful accessorizing? 
Accessories have a sneaky way of turning into clutter, especially if you are a collector. If you have no established way of controlling a collection's size, shape, and content, it can easily tranform into serious chaos. Deep down, you know the difference between clutter and accessories; but, just in case you're in denial, here's an easy test: clutter causes stress, unhappiness, and dissatisfaction with your home. So, how are you actually feeling about your accessories?
Are your accessories organized?
Making a display of vintage maps, multi-sized globes, or perfume bottles from around the world look intentional and neat is the artfulness of how to make accessories function as décor–avoiding clutter, and laying claim to cool interior design. Plus, collections often have a timeless appeal, which means they can transcend décor trends and always be in style if displayed wisely.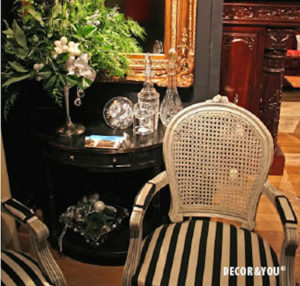 Are your accessories consistent?
Going for an eclectic, or collected look is an attractive design goal, but only if you are approaching the display thoughtfully.   Five pillows, each one a different solid color, can work, but may not work quite as well as five pillows of varying patterns in the same color palette. The important thing is to be honest with yourself when eyeing your interior design. While loving what you're displaying is important, love can be blind and detract from your overall décor.
Do your accessories have a color scheme?
Looking for just the right accent color to complement the rest of your room's palette? It usually happens through accessories. Even though this shade may be a small part of a room's design, it can carry great
weight. For instance, copper vases of varying shapes and sizes lined up on the fireplace mantle will make a bigger impact than vases scattered throughout the room. Cohesion can make anything work.
There's always room for accessories done well!