Take a fresh look at your windows.
While window coverings (whether shades, blinds, and shutters) are practical for privacy, energy conservation, or light control–they can also do great things to enhance your room's personality. Window treatments draw attention to the window, soften the look of the room, and can enhance the level of decorating flair.
Window treatments can be simple or multi-layered. The most requested treatments are simple, decorative tops-like valances or cornice boards-over a shade or a blind. Fabric drapery panels on a decorative rod are also popular. But, don't assume that one size, or one look fits all. There is no such thing as a standard look. With millions of textiles, colors, and patterns available, your window treatments can be completely unique. This is truly an area on which to put your personal touch. And working with an interior designer can guide you in the selection process.
First, consider function.
Privacy, sun control, and energy efficiency are three major factors to be weighed in making your choices. If the climate where you live tends toward temperature extremes–either very hot or very cold–layered window treatments with insulated blinds, shades, or drapes are designed to hold in heated or cooled air. This will save you energy dollars, as well as offer privacy and sun control. Motorized shades are increasingly popular, allowing you to open or close them with a remote.
In some instances, you may not need a covering for privacy, because you live in an area where neighbors are not close by – but the "blackness" of an uncovered window at night may not be to your liking, particularly in the darker winter months. Lighter window treatments can soften the look of your windows while letting in more sunlight.
Next, consider the "feel" of the room.
Bare windows can be stark, and window treatments "soften" the edge. Even if you are a minimalist, a simple top treatment, valance, or sheer drapery panels can have huge impact, and help tie your overall design together.
The third aspect to think through in creating your personal style is the "look" of the room.
The style of the window covering and the fabric selected are part of the overall design for your room and contribute to whether or not you'll "love the space you are in." You do not have to "love" every piece of décor in your space in order to love your home and feel that it is well-designed. It is more important that you love the overall effect achieved with all the components in a room working in harmony. As you're choosing your window treatments, remember that they will be a value-added selling feature for your home, since you won't be taking them with you.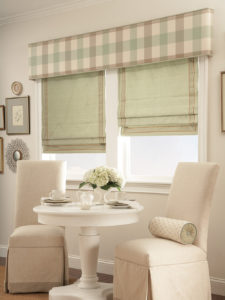 What's your preference?
Maybe a simple top treatment, like a custom valance or cornice board, is what you need to bring an added zip of color, style and warmth. Or, a decorative rod with side long panels for a touch of panache. Choose complimentary fabrics with embellishments, such as trim, banding or color blocking. Don't let your decorating scheme stop short of your windows. They're a great place to display your unique sense of style.